March/April 1997
---
Here is an article that I wrote for the former Women's Hockey Magazine. This article appeared in the March/April 1997 Issue.
---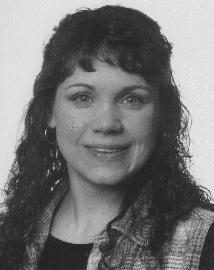 Monster Web Site for Women's Hockey
by Andria Hunter
---
http://www.cs.toronto.edu/~andria Andria Hunter's web site is the premiere source of information on women's hockey in North America and around the world. Since 1995 more than 100,000 different computer sites have accessed her web pages. Women's Hockey welcomes the former Canadian national team member and cyberspace surfer as an occasional columnist.
---
Let me start by confessing that I'm a total hockey fanatic. I love hockey and it doesn't matter if it's ice hockey (my first choice) or roller hockey (my second choice). Hockey is definitely one of the three major loves of my life.
My second major love is computer science, although I'm sometimes referred to as a computer nerd. I recently graduated from the University of Torotno with a Master's Degree in Computer Science, but I'm in no hurry to move on to the serious work force. I'm having too much fun playing hockey, developing and expanding a web site for the Canadian In-Line & Roller Skating Association (CIRSA), and helping out in a variety of ways with the forthcoming Women's World Ice Hockey Championship. I almost forgot the other major love of my life, but I think I'll leave him as "anonymous."
Way back in the fall of 1994 I made an earth-shattering discovery. I stumbled upon the WEB! As a self-confessed computer geek, I just had to make myself a home page. My friends thought I was doing this to avoid finishing my thesis!
So there I was, with my home page up and running on the World Wide Web. Then I got really clever and decided to create linkages to other web pages on women's hockey. I was surprised to learn there was not a single page of information about our sport on the internet! Remember, this was 1994, not that long ago. I decided to do something about it and in hindsight I probably had no idea of the monster I was about to create.
Initially the women's hockey web pages were four informational women's hockey pages that could be accessed from my home page. These four informational women's hockey pages included general information, international stuff about the women's world hockey championships and other international competitions, profiles of top Canadian and American players, and information on U.S. colleges and Canadian universities with women's hockey programs.
It didn't take long before people from all over the world began to send me information about women's hockey in their own countries. I had no idea there were women playing the game in South Africa! The pages began to grow exponentially. What started out as a small project quickly expanded to a mass of information about women's hockey leagues, tournaments, and events from around the world. I had to create indexes at the bottom of each web page and a main contents page to simplify the task of locating specific information and moving between the pages.
The international page now has links to women's hockey in 19 different countries, including, Canada, the United States, Finland, Sweden, Switzerland, Norway, Germany, China, Great Britain, Russia, Latvia, Denmark, France, the Netherlands, Japan, Italy, Australia, South Africa, and Scotland.
With the increasing popularity of the world wide web, we are now seeing an emergence of web pages for several individual women's hockey organizations. To the "general information" page, I have added a comprehensive list of all women's hockey web pages that I know to exist. That list now has 73 links, and that does not include the close to 250 web pages that I maintain!
I started to track the number of hits to my pages in March, 1995. At that time the number of different hosts (computer sites) that accessed my web pages averaged 45 a day. That average has since soared to 657 different computer sites daily.
If you are ever surfing the web, please stop by my site and be sure to sign the guest book!
---
Andria Hunter was a member of Canada's national team that won the women's world hockey championships in 1992 and 1994. She played for the University of New Hampshire in the U.S. Eastern College Athletic Conference and was rookie of the year for the Department of Athletics at the University of New Hampshire in 1986-87. She also played for the University of Toronto in the OWIAA league while she was working on her Master's Degree.
---
This page is maintained by © 1998 Andria Hunter (andria@cs.toronto.edu).


URL:  http://www.whockey.com/andria/article/women_hockey_vol2.html